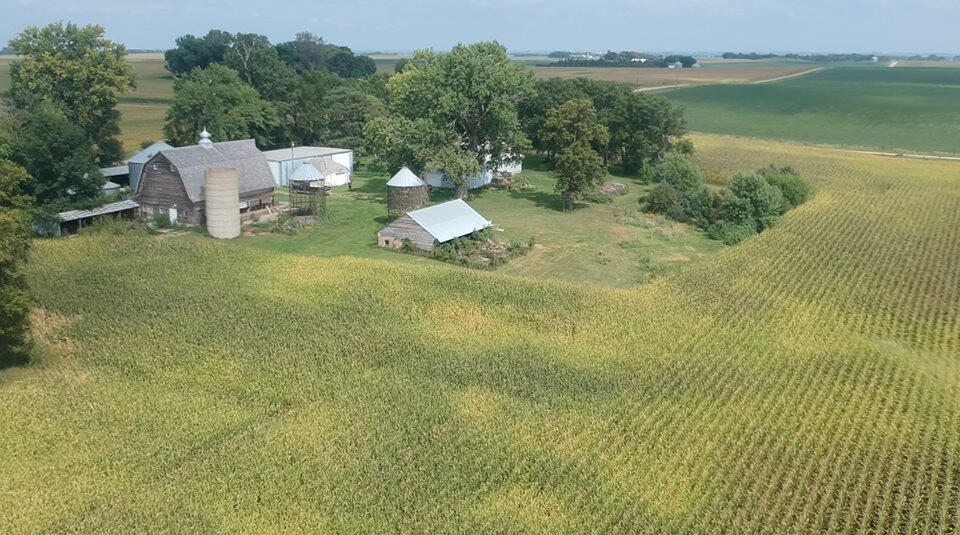 Our Story
"Here is your country. Cherish these natural wonders, cherish the natural resources, cherish the history and romance as a sacred heritage, for your children and your children's children. Do not let selfish men or greedy interests skin your country of its beauty, its riches or its romance."
- Theodore Roosevelt

Nearing its "century farm" status, this northwestern Iowa farm began its life in 1927 as the dream of RS, and Florence Knutsen who left life as owner/manager of Fallow Country Store to follow a passion for farming. The farm house they built in 1927 and hip roof barn erected in 1931 remain to this day, reminders of another era in farming history. Depression years were tough for everyone and RS and Florence fought hard to hang on to the farm through those tumultuous years. They spoke often of how their faith in God sustained them through that dark time in our Nation's history. Like many other farm families in that community, they became active members of Lost Island Lutheran Church, (located just over a mile away) where Florence became the pianist for Sunday Services while RS served in various leadership roles. They raised four children (two boys and two girls), one of whom (Vance) became the first Pastor to be ordained from Lost Island. Their oldest son, Wayne, eventually took the reins of the farming operation in 1949. He soon met his love, Shirley Anderson, a school teacher who served Lakota Schools as a music and English teacher. Shirley had grown up on a dairy farm near Staples, MN so with their marriage in 1950, a new generation began its life on this Iowa farm. Wayne and Shirley raised their four children on that dirt and as a family, poured their lives into milking Holsteins, raising chickens and pigs, and growing corn, soybeans and alfalfa.

All through those years, a childhood dream lay dormant in Shirley's heart. Spiritual faith occupied a central place in her life even as a very young child. When her dear cousin Marion Scott decided to become a missionary to Ethiopia, Shirley became a strong faith partner to Marion. While waiting to begin her career as a public school music and English teacher following graduation from Macalester College, Shirley answered a "calling" to serve as a missionary to migrant workers in Thompson, ND during the summer of 1949. Working with migrant families nurtured her love for mission work to which Shirley hoped she would return, later in life.

"Later in life" stretched into 70 years of active participation in nearly every ministry of Lost Island Lutheran. Raising her four children gave ample opportunity to serve with other faithful Church members helping with the Luther League, Choir, Ladies Aid, Bible Studies, Sunday School, Vacation Bible School, and Lutheran World Relief Quilting. A different kind of mission work!

Fast forward to three years ago when Lost Island and Bethany decided to bring their first Seminary Intern on staff. Both Churches acclaimed her ministry while discovering the joy of mentoring a seminarian. However, finding adequate housing for the Intern and her family had been a challenge during this internship year leading Shirley to offer her farm home as a residence for future seminarians. As Pastor Peter and Shirley explored this idea over a cup of coffee, Peter shared his vision of the farmstead becoming a "learning laboratory" for Seminarians seeking to discover the unique demands of ministry to a rural community. Shirley loved the sound of that idea and the name, "Rural Ministry." Since Lost Island is located just over a mile from the Farm, both parishes saw great potential for providing seminarians an authentic, immersive experience in rural ministry. Additionally, the farmstead is a beautiful place where folks of faith can stop by to pray or meditate under Iowa's blue skies and fresh air. Each congregation unanimously embraced the vision and Rural Ministry Initiative was born—and with that, Shirley's hope of fulfilling that missionary calling from long ago, came to pass!

Her son, Pastor Wayne Jr. and his wife Missy, their son Christopher and daughter Chloé share Gram Shirley's missionary vision and have purchased this soon-to-become Century farm so that it remains in the family and continues to serve as a venue for Rural Ministry Initiative far into the future. Much work has already been accomplished. The newly planted 2 acre wildflower pollinator garden is off to a great start and parishioners from both Churches are excited to see God moving through Rural Ministry Initiative to raise up new pastors for rural churches throughout America! And to think…it all started long ago with a young girl's dream of becoming a missionary. Truly, God works in mysterious ways!
Team biographies coming soon!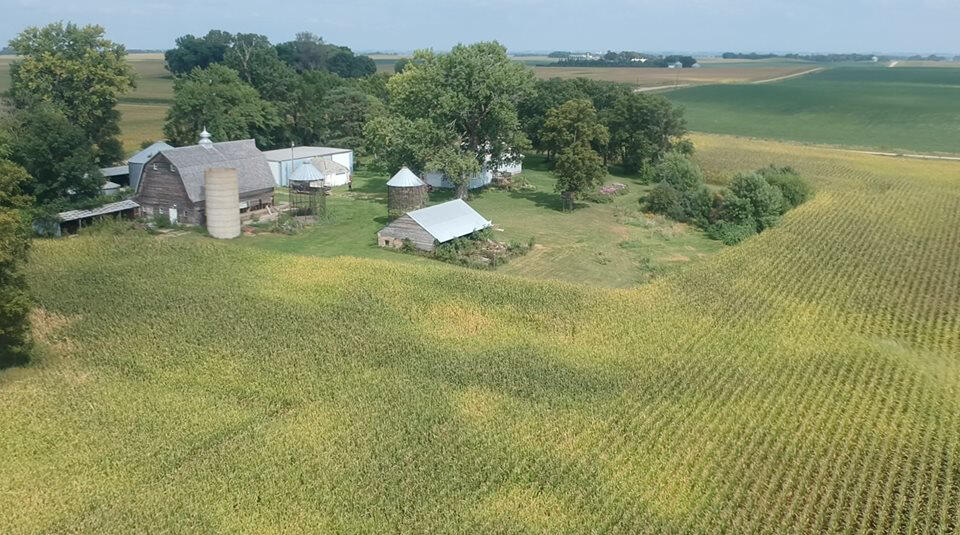 Our Vision
WHY RURAL MINISTRY INITIATIVE (RMI)?
It's no secret that rural America is struggling. Drive down any small town main street. It hurts to see boarded up storefronts still displaying names of family businesses that once anchored a thriving business community. Shuttered churches that once served a vibrant community of faith complete the landscape of a crumbling ghost town. Take the first gravel road out of town and count the number of farmsteads still standing in the first couple of miles. Their absence explains that ghost town we just left.

WHY HAS THIS HAPPENED?
Why has this happened? The notion of the traditional American Family Farm is threatened by economic forces that create financial hardship for farmers. Depressed grain prices force farmers to cover more ground just to stay in business, making it difficult to properly care for the soil. Costs of production and skyrocketing land prices make it nearly impossible for young farmers to "go farming." For those who remain, the joy of farming has been replaced with relentless stress and a mounting sense of futility. Our community is suffering. Spiritual need has never been greater. So why do rural communities struggle to attract pastors in the face of such need? If what we've been doing isn't working, what are we missing?

WE HAVEN'T TOLD OUR STORY.
Lost Island and Bethany Lutheran Churches have resolved to do something about this "elephant in their cornfield." Rural Ministry Initiative is their missional response…a catalyst for change…a better way to tell our story rooted in our rich, rural heritage. How? RMI tells our story by creating an authentic, culturally immersive, spiritually grounded mentoring experience for ELCA seminarians discerning God's call to serve a rural community. Lost Island and Bethany have partnered to provide a residence for the Intern located in the farming community that surrounds Lost Island Church.
Rural Ministry Initiative also provides/creates a serene farm-setting where all people of faith can come to pray under Iowa's blue skies, beautiful sunsets, and fresh air…a place where tired souls can take time out of a hectic day to deepen their spiritual walk and find renewed strength and purpose in these troubled times.

RMI…THE FUTURE OF MINISTRY?
RMI. Why are we doing this? We believe God has called us to share the Gospel message in innovative ways that reflect our rural heritage as people of the Cross, called to be caretakers of God's life-giving earth. To that end, we have planted a two acre wildflower and native Iowa prairie grass pollinator garden, prepared ground for a biodiverse forest of 68 native Iowa trees, and set in motion plans for a honey bee apiary. Extensive infrastructure renovation to the farm house includes installing a new deck, handicap accessible ramp, and new roof and plumbing throughout. WiFi connectivity has been upgraded throughout the farmstead. The vintage 1931 hip roof barn wears a new cedar shingle roof. We have demolished unsafe out buildings and bulldozed crumbling feeding floors. Future plans for 2021 include building an outdoor worship space and transforming the barn into a WiFi enabled education facility.

RMI IS THE FUTURE OF RURAL MINISTRY!
In spite of the challenges pressing down on rural communities, there are signs hope. Recent
indicators show younger families moving into the countryside. Local schools show signs of growth and vitality. Lost Island and Bethany congregations want to be ready to provide spiritually grounded programs that prepare prospective pastors who will be serving rural communities. Our communities deserve well-trained, faithful pastors who intimately understand and embrace the unique qualities of rural ministry and the unique challenges facing rural America. Rural Ministry Initiative is designed to do just that. Rural Ministry Initiative is the future of rural ministry!

THE PROPERTY:
The cozy 1927 farmhouse provides the intern with a relaxing place to stay. [ADD MORE INFO]
Given the collaborative nature of this endeavor, we'd love to hear your suggestions!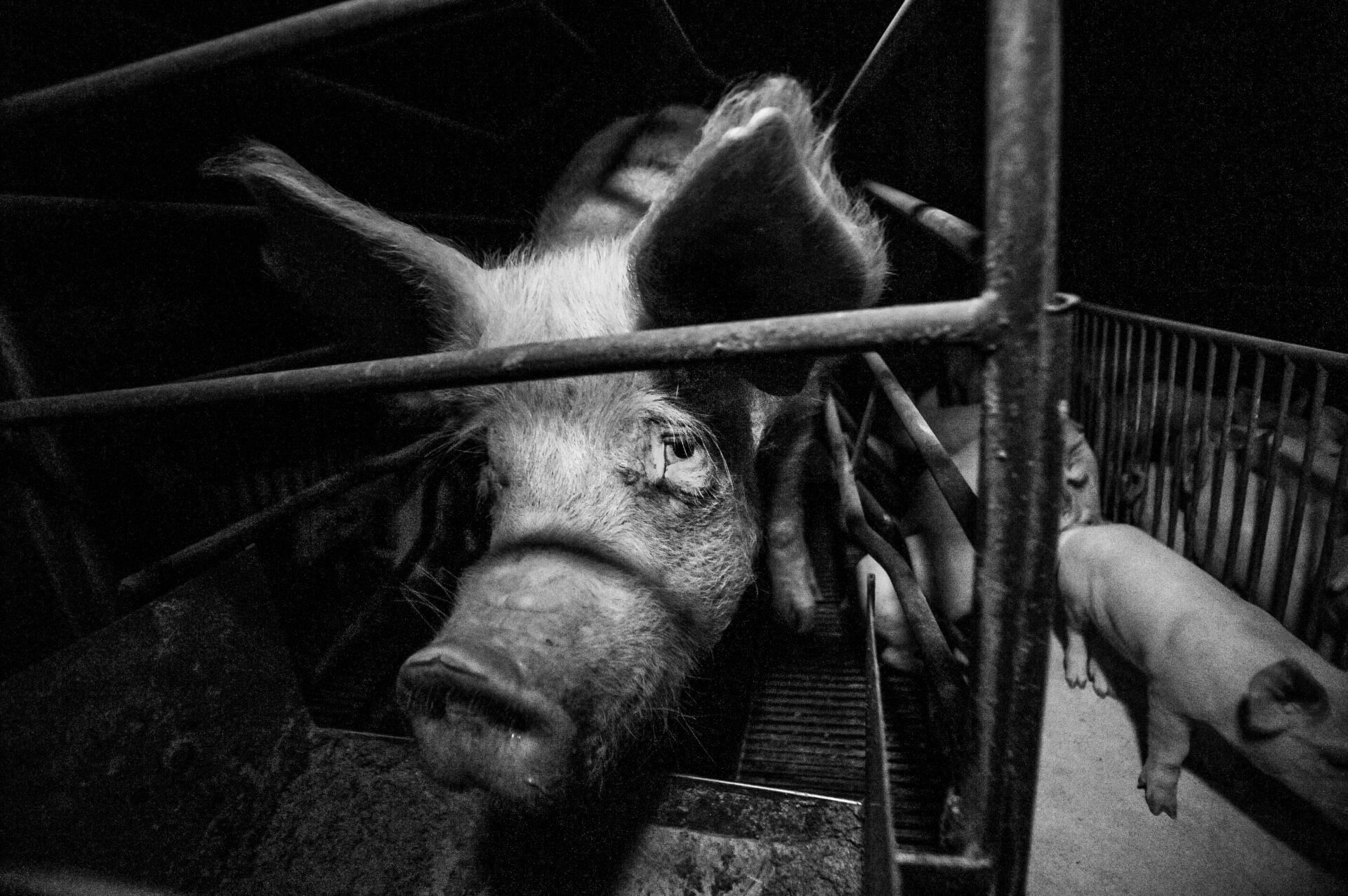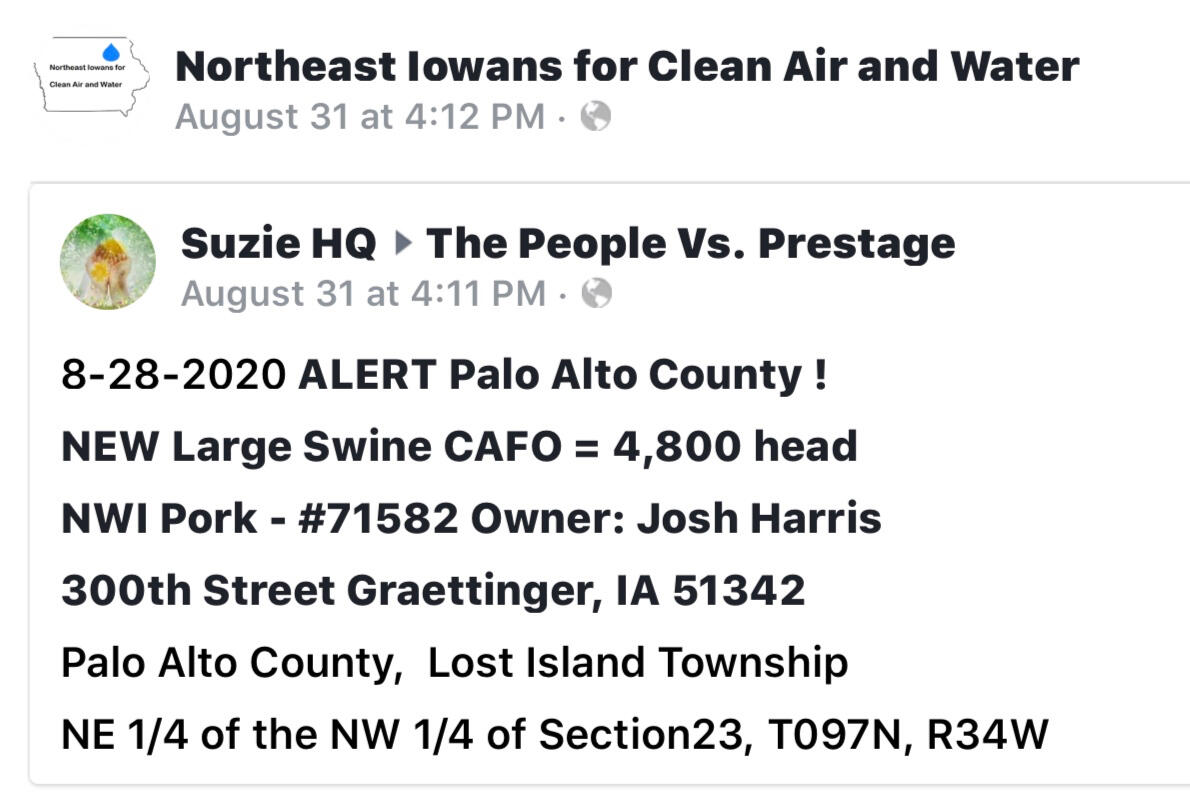 We need your help!

Just days ago, we found out that a massive 4,800 pig CAFO (Concentrated Animal Feeding Operation) is planned for construction next-door. Not only do these facilities essentially commit legalized animal abuse to the sixth smartest animal in the world, they also spew pollution, toxins, and odor for miles around the local community. Both the Rural Ministry Initiative and Lost Island Lutheran Church will be severely impacted as they are less than a mile away from the proposed location.

In the press:
First Supervisor Meeting - Emmetsburg Democrat
Is Anybody Listening? - A Letter to the Editor

To help you can:
- Watch this film. Email us your receipt and we'll reimburse the first 25 viewers.
- Contact your County Supervisors before September 29th, their deadline for voting on issuing a conditional use permit. Let them know you ARE listening!
- Join our Facebook page for updates

Frequently Asked Questions:
This section is constantly being updated. Please contact us with any questions you have and we'll try to get those answered as soon as possible!

"Isn't CAFO farming supposed to be such relatively easy money and helpful for the local economy?"
Nope.

"How will Lost Island Lutheran Church be affected?"
At 5,100 feet away from the proposed CAFO (going south), it is definitely in the stench zone. How bad will it smell? Read on...

"How would this CAFO impact infant health?"
Infant Health and CAFOs Peer reviewed research of pollution from livestock facilities on infant health found an increase in infant mortality. The results suggest that the mechanism by which this effect operates may be increased air pollution. The mortality increases are driven by elevated levels of respiratory diseases, providing suggestive evidence of an air pollution mechanism. Source

"How will this proposed CAFO impact surrounding property value?"
This chart is from "Concentrated Animal Feeding Operations and Proximate Property Values (John A. Kilpatrick):

"How bad will the emissions really be?"
Toxic air emissions from CAFOs often adversely affect immediate neighbors and may adversely affect nearby communities. Those with allergies, asthmatics — especially children in which asthma is more common — and adults with COPD, are at particular risk. Airborne pollution is associated with adolescent wheezing. Childhood asthma symptoms extend as far as three miles from swine CAFOs. Thu and colleagues compared studies of residents not near livestock and residents within 2 miles of a 4,000 swine CAFO experienced similar effects as workers in CAFOs such as burning eyes, plugged nose, increased cough, phlegm, shortness of breath, wheezing, and chest tightness, headache, nausea, dizziness, weakness, and fainting. Source

"What about the free/cheap manure?"
Are you sure you want this on your land? Antibiotic resistance genes can spread due to manure application on agricultural fields. The usage of antibiotics in animal husbandry has promoted the development and abundance of antibiotic resistance in farm environments. Manure has become a reservoir of resistant bacteria and antibiotic compounds, and its application soils. Source

"Could this CAFO impact my nervous system?"
Yes. Neurobehavioral impairment from proximity to confined animal feeding operations was demonstrated in Ohio neighbors of hog CAFOs, and adds abnormal functions to excessive symptoms that were quantified earlier. We also confirmed in downwind neighbors of hog confinement the reductions in vital capacity and flows found in hog confinement workers. Conclusion is near neighbors of hog enclosures and manure lagoon gases had impaired neurobehavioral functions and pulmonary functions and these effects extended to nearby people thought to be controls. Hydrogen sulfide must be abated because people living near lagoons cannot avoid rotten egg gas. Source

"What happened when they shut down those meat processing plants due to COVID-19?"
Warning: Disturbing video.
Contact Us
To learn more about this initiative, please send us a note!